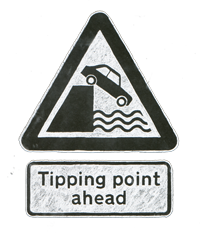 Here's a little something we were shown in the first lecture of the climate justice section of this EGS course, a film called Wake Up, Freak Out.
It's basically a short animat
ed film about climate change and how up till now we've been too late to act, meanwhile the planet's climate is reaching a dangerous tipping point - a point of no return, and
we have to act now. It's well-made and concise. Yes it is intended to shock a little, hence the title, but it's not overdone. They waste no time on the silly little details and get straight to the point.
I decided to check out the website now and realised you can watch it online,
so do it
. If not
then you can read the script too. So do one of the two.
This really isn't about polar bears any more. At this very moment, the fate of civilization itself hangs in the balance.
I should be writing an essay on this -
If South Africa reduces its greenhouse gas emissions, the country's development will be compromised. Argue against this statement drawing on the ethical reasons why South Africa should reduce emissions and how reducing emissions could support development.
And I should also say that yes I do recognise the fact that the sources of all my posts of late seem to be either the BBC or bio/EGS lectures - this is because they're what's right in front of me at the moment and I haven't got the time to look further, let alone blog at all in the first place :P